Welcome to Stone Lake Resort!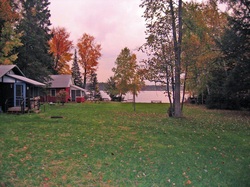 Stone Lake Resort has been family owned since 1926. Jim and Rosy Bartells purchased the resort in 2000. We are
located in the heart of the Chequamegon-Nicolet National Forest with
its crystal-clear lakes, abundant fisheries, trophy deer, and other
wildlife galore. Three Lakes is home to the largest freshwater chain
of lakes in the world and we are located on one of the biggest, Big
Stone Lake. In addition to wonderful summer vacations, May, September
and October offer some of the best fishing, for muskies, walleyes,
northerns and pan fish, warm days, cool nights and lots of peace and
quiet. All of our cabins have Cable TV. Most cabins have ceiling fans in all rooms. All kitchens have refrigerator, stove, and microwave. Pillows, blankets, grills, picnic tables, fire pits and campfire wood are also provided. Bring your own towels and linens; however, they can be rented for $10. WI-Fi can also be found in all of our cabins.
---